First thing first, I would like to say Merry Christmas to all of you! It truly is the best time of year. It always brings up the spirit of happiness, laughter, warmth from most people. Christmas trees are decorated, streets are lit up with wonderful bright lights, Winter Wonderland is open, and one of my favourite things is the Christmas tunes are sang, played, continuously hummed from all over the place (even an oriental supermarket in Chinatown!)
To be honest, I wasn't looking forward for Christmas this year. This is the third time in three years I've celebrated Christmas in this most beloved (by everyone) city, London. And I was afraid that it might be my last one and that made me quite depressed. Of course someday I can come back to this amazing city during Christmas time for holiday, but it would never be the same, wouldn't it? The feeling of celebrating it with your friends because your family is not here with you (hence your friends are your family away from home) is unbeatable. Therefore, on this post, I will write about "How To Celebrate Christmas (Especially When Public Transports are Closed on the Day Itself) With Your Mates?" (Yes, in London there are no public transports on the 25th of December, except taxis). This guide might be helpful for next year, guys!
"How To Celebrate Christmas (Especially When Public Transports are Closed on the Day Itself) With Your Mates?"
Step 1: Have friends (if you don't have, make friends--at least one of them should be able to cook).
Step 2: Create a Whatsapp / Line / BBM group to organise the party before the day.
Step 3: Decide whose house / flat you are gonna spend 3 days 2 nights in (24-26 December).
Step 4: Prepare extra beds, bed sheets, pillows, blankets and assign rooms (usually guys will take the living room with foldable beds and girls sleep in the bedroom on actual beds).
Step 5: Buy groceries on 23rd of December the latest (if you do it online you might want to think about delivery time). Book the turkey from a week before because it sold out fast. The party will start on the 24th at night so you need to prepare 2 dinners, 2 breakfasts, 1 lunch, 1 supper, desserts and snacks accordingly.
What my friends (who can cook) prepared for us (who cannot cook) were beef burgers and fries. For supper on the 24th we ate rawon (Indonesian beef soup) and beef rendang. Lunch on the 25th itself was spaghetti bolognese with scones (+clotted cream + raspberry jam) as desserts. We saved the turkey for dinner and an addition to the roasted stuffed turkey was pork steak. We had chocolate molten lava puddings with vanilla ice cream as desserts. On the 26th (which is Boxing Day) my friend initially thought of making us sandwiches for brekkie but then we woke up late and rushed straight to Harrods to check out the sale.
Step 6: Buy a present(s) (budget is to be discussed with group) for exchanging-gifts-session. It is either you have Secret Santa (to give to a particular person that have been lot for beforehand)--this is for fixed amount of people who will come to the party--or
Yankee Swap
.
This year my friends and I agreed on Yankee Swap. We did it after dinner on Christmas day.
Step 7: Prepare games. The easiest one would be Charades. You don't have to have the cards, you can create your own words and everybody can guess. You can even make your own rules and it will be just as fun. What we played next was
Mafia
and Cards Against Humanity.
Step 8: Pick movies you bunch want to watch together. Home Alone 1 & 2 are probably the best picks and a must, then we watched Harry Potter (planned to have a marathon but lack of time), also stand up comedies like Russell Peters and Raditya Dika (Indonesian based). The movies can be played while eating or after meals.
Step 9: Agree on a dress code to make it more amusing. We chose to wear Christmas jumpers! :D
Step 10: Have a great loads of fun! Below are the pictures as proof.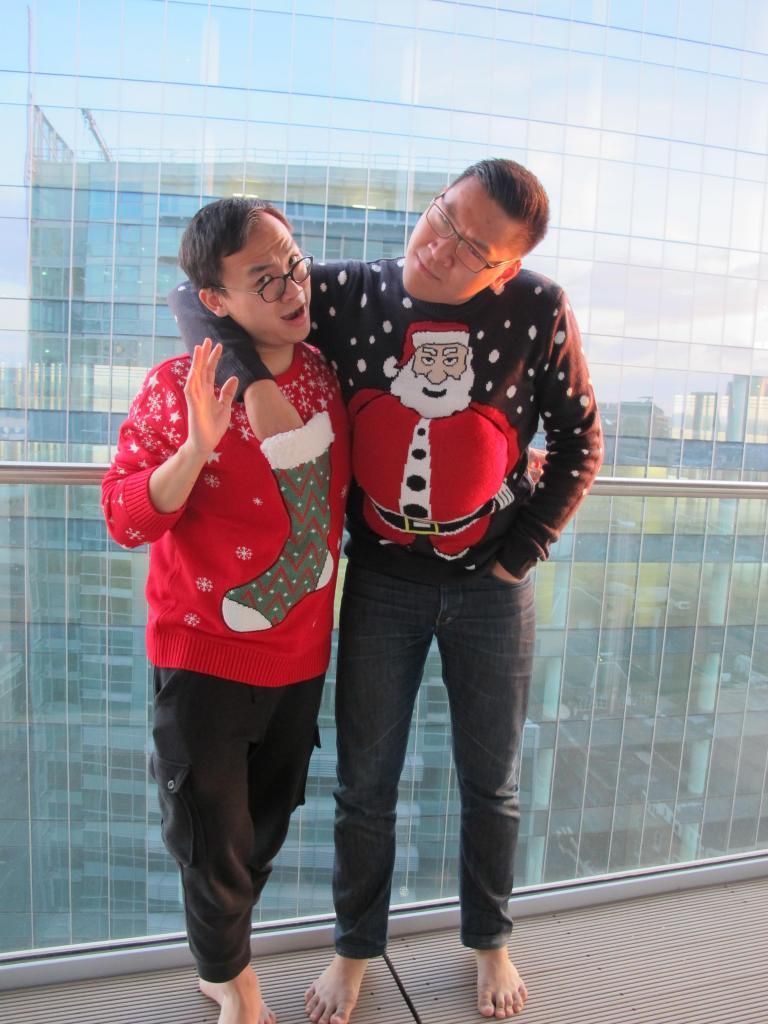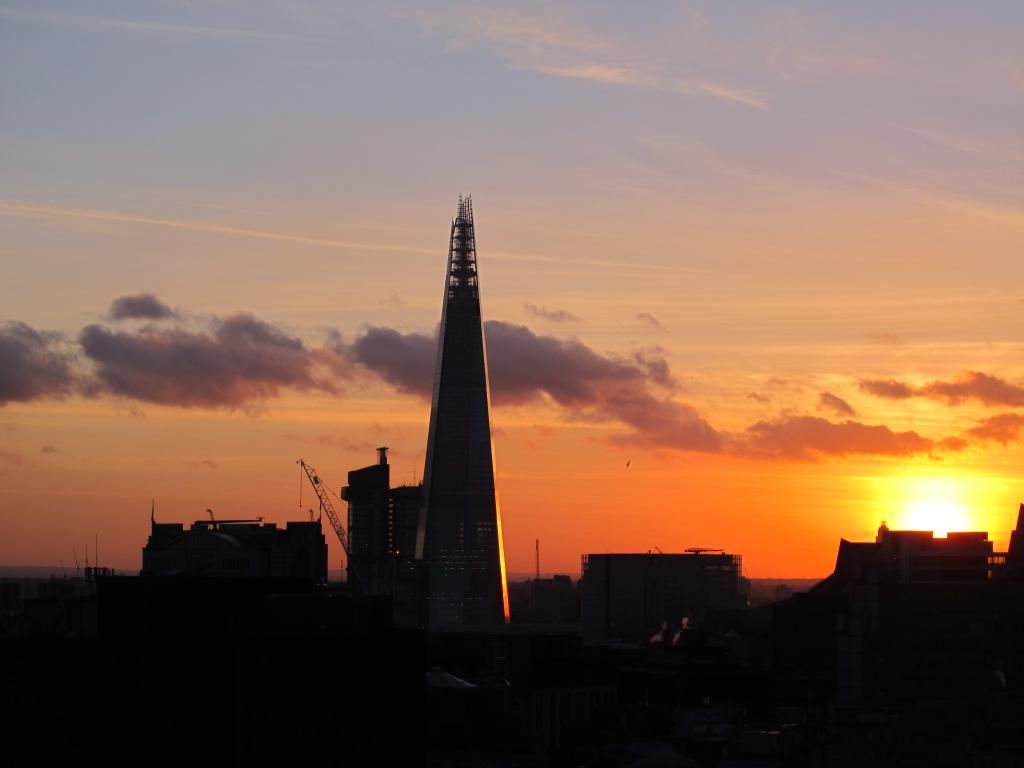 We were so blessed with a stunning sunset view on Christmas day!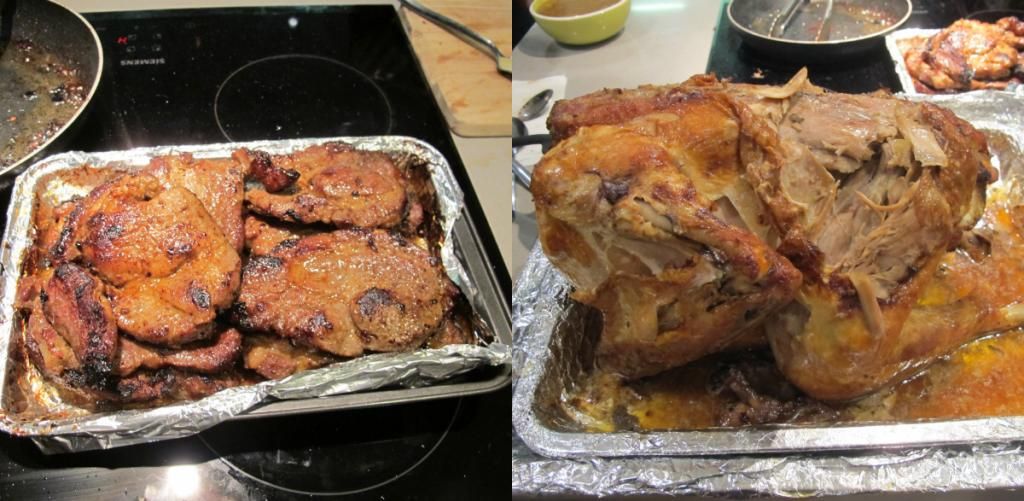 Pork steak on the left and roasted stuffed turkey on the right (the photos don't do justice!)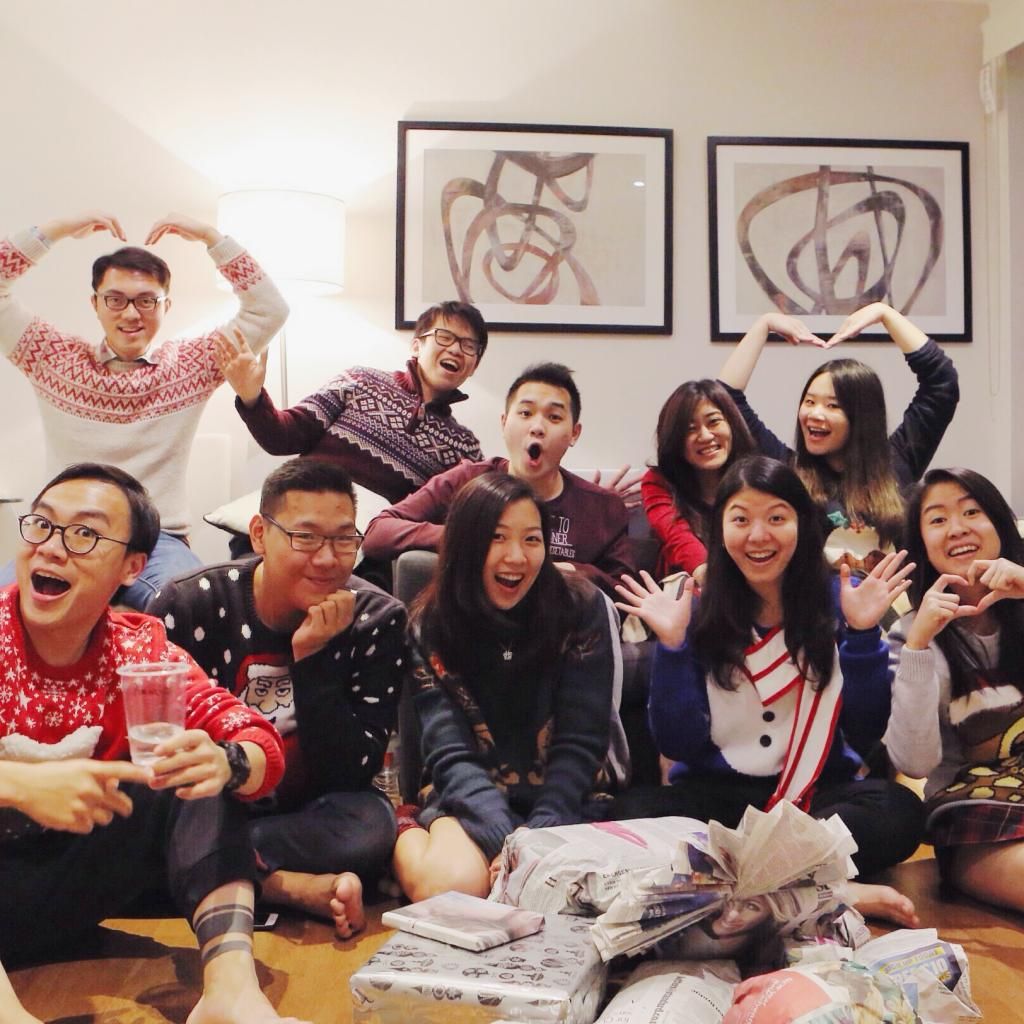 For unto us a Child is born,
Unto us a Son is given;
And the government will be upon His shoulder.
And His name will be called
Wonderful, Counselor, Might God,
Everlasting Father, Prince of Peace.
Isaiah 9 : 6
'Til next post! Have a blessed Christmas holiday, peeps!